AP Chain Disk
AP Chain Disk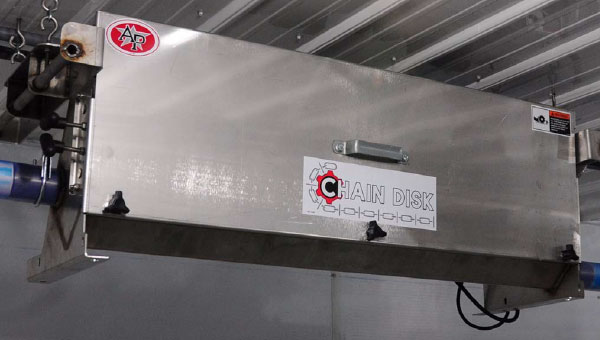 Chain Disk feed delivery systems have the flexibility to adapt to all types of pig production facilities and the ability to overcome the
performance and reliability constraints of other systems.
Today's complex feeding programs for farrowing, nursery and finishing units, demand complete flexibility in feed delivery. Twisting and
turning through multiple farrowing rooms while delivering feed to AP's Farrowing Drop Feeders present no challenge to the AP Chain
Disk Feed Delivery System. High capacities at long distances with multiple turns, and the ultimate in dependable recirculating systems,
is what it was designed for.
Our goal is to work hand-in-hand with today's producer to provide feeding equipment needed to adapt to our rapidly changing technologies
for years to come.
Flexible Design
Chain Disk is ideally suited to delivering feed to multiple farrowing rooms, individual sow stalls, electronic sow feed systems and the
high volume demands of large finishing facilities.
Quality Chain
Durable, low friction nylon disks injection moulded onto hardened steel chain provide years of trouble free service eliminating the maintenance
and down time associated with cable style conveyors.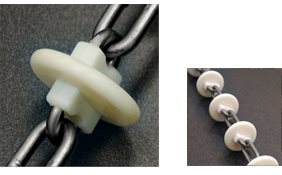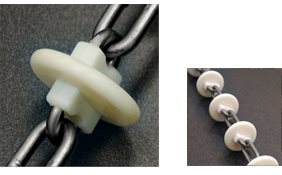 Heavy-Duty Drive Units
Chain Disk drive units are constructed of corrosion resistant 304 stainless steel and feature heavy duty, high efficiency, helical bevel
gearboxes. High efficiency means more torque with less horsepower decreasing operating cost without sacrificing performance
Auto Tensioning
Chain Disk drive units feature an automatic chain tensioning system to reduce maintenance and a safety shut off switch to shut down the
system if it becomes obstructed by a foreign object. Correct chain tension is automatically adjusted by a spring loaded tensioning
wheel.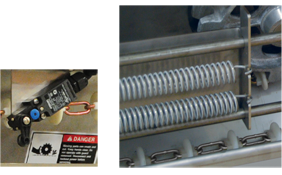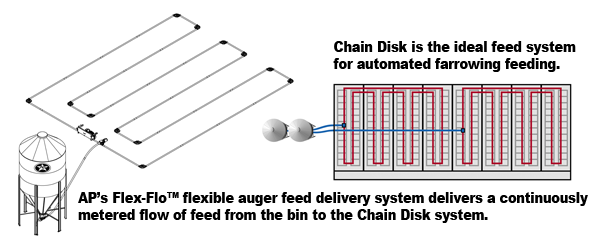 Chain Disk is available with three styles of conveyor tubes to meet the requirements of every application.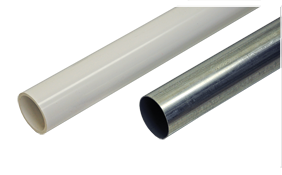 PVC Tube. Corrosion-free and quick & easy to install. Ideal for farrowing and other low volume applications.
Welded Steel Tube. Ideal for high volume applications like finishing and electronic sow feeding.
Clear PVC Tube. Allows feed to be easily viewed as it is delivered. Ideal in small portions near the proximity switch
(tube sensor) for inspection and adjustment purposes.
| Chain Disk Tube | Fill System | Daily Run Time | Effective Capacity* | Max. System Length (w/ 8 corners) |
| --- | --- | --- | --- | --- |
| PVC Tube | Flex Flo M300 250RPM | Up to 100 min. / day | (16 kg) / min. | 460 m. |
| Welded Steel Tube | Flex Flo M300 250RPM | Up to 240 min. / day | (16 kg) / min. | 550 m. |
Chain Disk Controller
The Chain Disk Controller enables the feeding system to be programmed to operate how and when you want and constantly monitors the system
to insure proper operation. Drive unit motor currant is constantly monitored to insure that the system is not over loaded. When amp
draw spikes, the Flex-Flo™ fill system is temporarily shut down by the controller until the drive unit motor amp draw decreases
and normal operation resumes. A programmable maximum run timer will shut down the Chain Disk and the Flex-Flo™ systems if the
system runs continuously for an excessive amount of time indicating that a bin is empty or a costly feed spill is occurring.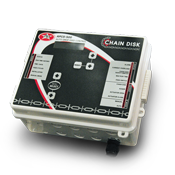 Available in two models:
The

APCD-500

features a 24 hour time clock and actuator outputs making it ideal for automated feeding in breeding
and farrowing facilities.
The

APCD-600

features continuous feeding making it the ideal controller for nurseries and finishing.
Tube Sensor
A tube mounted sensor will shut down the system when feed returns to the inlet hopper indicating that all feeders have been filled. Chain
Disk's sensor design eliminates the challenges caused by empty farrowing or nursery rooms, and eliminates the task of correctly position
sows in your breeding and gestation facilities to keep the feed system operating properly.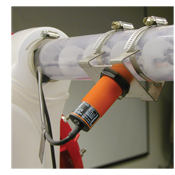 Pig
---
Search