AP Drop Feeders
AP Drop Feeders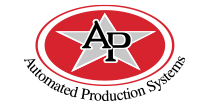 Get precision feeding and reliable performance at an affordable price with AP's wide selection of Drop Feeder Systems.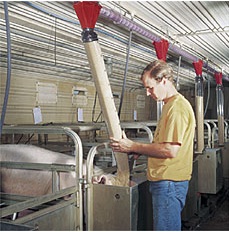 Save time, feed and money with AP's Farrowing Drop Feeder.
Feed farrowing sows individually according to condition, without the hassle of labor intensive feed carts and scoops.
A flexible sock allows movement in any direction.
A swing gate at the bottom of each feeder is manually operated to quickly and accurately measure 1 to 12 pounds of feed, eliminating costly
overfeeding.
An adjustable band around the feeder is used to provide a record of the previous feeding.
It is available in 8-1/2 or 12 lb. capacities with model 220 or 300 drop kits.
---
Stainless Steel Cup
The stainless steel cup on AP's drop feeder tubes has a built in stop and torsion return spring.
---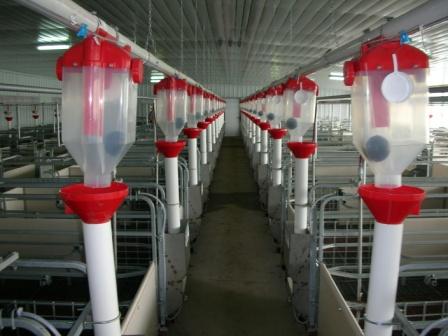 Automatic Farrow Feeding
Decrease labor cost with AP's fully automated farrowing drop feeding systems.
The Chain Disk feed system is ideally suited for feeding multiple rows of farrowing crates with a single drive unit.
Either pneumatic or electric actuators are operated by a programmable electronic time clock to provide multiple unattended feedings increasing
feed intake during lactation.
---
Ultra-Drop Feed Dispenser
191-AP3800 MODEL 220/236 FEEDER
191-AP380050 MODEL 220/236 FEEDER BOX 50
The Ultra-Drop feeder is specifically designed to meet the requirements of automated feeding of both lactating and gestating sows. The
semi-transparent feeder body allows for visual confirmation of the feed level and proper operation of the feeder at a glance. A weighted
ball valve securely closes off the feeder and provides agitation as it is lifted through the feed ensuring complete clean out. Ultra-Drop
feeders can be dumped manually using either a lever or winch or can be equipped with electric or pneumatic actuators for timed automated
feedings.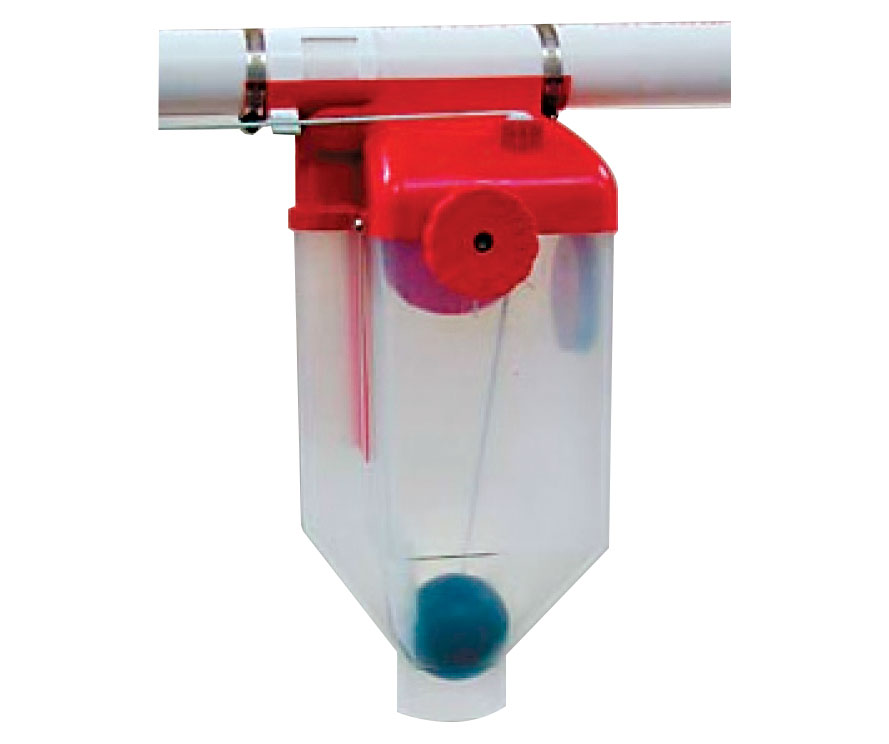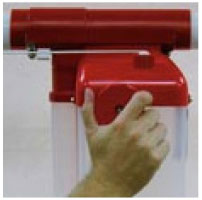 Simple one-hand adjustment (shown with optional water shield)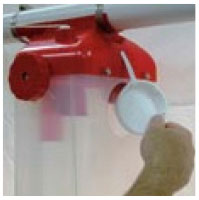 Removable cap for top dressing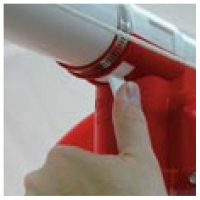 Individual shut-off
Downloads
---
Installation & User Manuals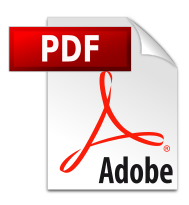 Accu Drop Feed Dispenser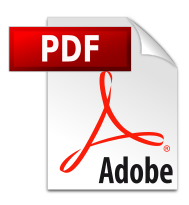 Econo Drop Feed Dispenser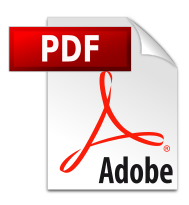 Farrowing Drop Feeder
Pig
---
Search