Integra Feed Link
Integra Feed Link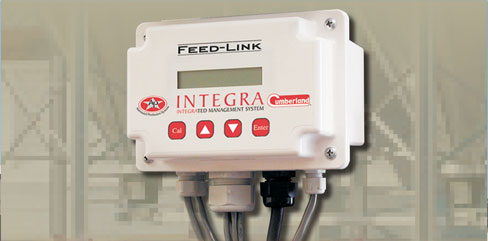 Feed delivery scheduling is an easy task when you have timely and accurate information. The Integra Feed-Link™ system from AP provides
a cost effective method of monitoring and managing on-site feed inventory either at the site, or from a remote location when used in
conjunction with the Network Master or IBOX 360 data collection systems. Feed-Link™ can be easily adapted to new or existing
facilities to provide accurate real-time data regarding feed inventory levels and feed consumption.
---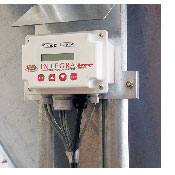 Display Units
The Feed-Link™ display unit can be mounted either on the bin or inside the building, up to 100 feet away. The digital display
can be set to display pounds, kilograms or percentage of full. The display unit also serves as the interface to perform a simple
calibration procedure after the system has been installed.
24VDC power supply.
Supports up to eight Load Cells.
Display pounds, kilograms or (%) percentage.
Optional mounting bracket available.
Field calibration.
Top display board compatible with 110v bottom boards.
---
Load Cell Assembly
The rugged load cell assemblies are specifically designed for harsh environments like those found in swine facilities, and adapt
easily to most feed bins utilising the existing anchor bolts. Two models of load cells are available; a
standard unit for up to 5,000 lbs. (2,250 kg.) per bin leg and a high capacity model rated at up to 10,000 lbs. (4,500
kg.) per bin leg. The compact design of the load cell assemblies only increases the overall height of the feed bin by approximately
three inches (eight centimeters). Patent #6636820.
5,000 or 10,000 lb. units.
Field calibrated.
Adapts easily to most bins utilising existing anchors.
Size approximately 3″ tall.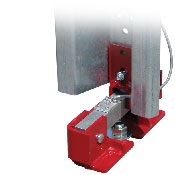 ---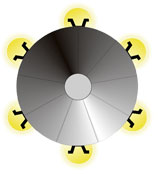 Unique Calibration
The unique field calibration system utilised by Feed-Link™ in combination with the placement of a load cell under every leg
allows for maximum accuracy in monitoring feed consumption.
---
Eliminate Climbing
Feed-Link™ eliminates the dangerous task of climbing bins to check feed levels, improving worker safetly and decreasing labor costs.
With Feed-Link™, feed levels can be properly managed, eliminating emergency calls for feed, and production losses associated
with running out of feed.
Pig
---
Search