About
Stockyard Industries was established in 1993 by Marcus Jones a 3rd generation pig farmer.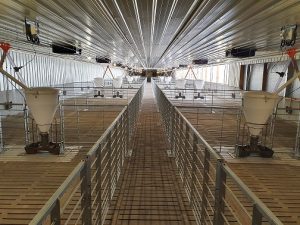 Marcus believed there was a need in the Australian pig industry for better equipment using "world's best practice" than what was being supplied.
All pig equipment sold by Stockyard Industries is used in the company owned 7,200 sow farm.
Stockyard Industries has now grown to become the largest supplier of pig equipment in Australia.
Stockyard Industries have expanded to also service the Australian Poultry Industry. Having been partners with  Big Dutchman Poultry Equipment
for more than 10 years, Stockyard Industries continues to service and support  the Australian Poultry Industry.
Stockyard Industries have warehouses in  Bendigo Vic and Clifton QLD where we keep large stocks of spare parts and new equipment. With
these two central locations, the company can supply stock Australia wide, servicing customers from rural Queensland to Western Australia.
Our Sales representatives personalize the  customer experience, ensuring the right products are matched with customer requirements to
suit all levels of farming needs and budgets.
Our International connections with suppliers have elevated the company to take on advanced modern technology to improve farming efficiency
and animal welfare.
We go the extra mile to ensure all bases are covered by supping:
Everyday Consumables
Production design in ventilation, flooring, lighting and feeding equipment
Turnkey Building solutions
Construction and project management
Install and technical servicing of all our products
Stockyard Industries is the authorized Australian agent for the following companies:
Gallery