Big Dutchman Feed Milling & Mixing Systems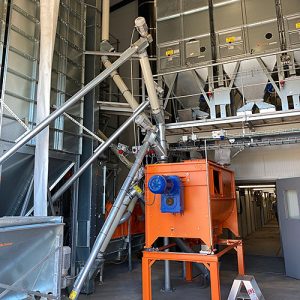 "Big Dutchman Feed Milling equipment through Stockyard Industries"
Big Dutchman (Scandinavia) Feed Mill is a company that is part of the Big Dutchman group, which is a global leader in pig and poultry production equipment. Stockyard Industries is the Australian distributor of Big Dutchman Feed Mills and equipment.
Big Dutchman (Scandinavia), with more than 80 years of international experience has become a market leader in developing computer controlled, feeding systems.  They have built a strong reputation for quality, service and innovation.  Located in Denmark, farmers in the area have had a long tradition for having their own crop production, and therefore it became natural for them to look for the possibility to produce their own feed to reduce the cost of externally purchasing feed for the farm animals.  In the 1990´s as farms grew bigger, the demand for computers to control these Feed Mills grew with it. This was the kick-start for Big Dutchman (Scandinavia) to enter this market. Due to the high experience in having computers to control farm equipment, Big Dutchman (Scandinavia) was fast becoming one of the key producers of high quality, farm Feed Mills.  Since then, many Feed Mill´s in different sizes, have been installed all over the world.
Feed milling is a critical process for farmers who want to produce their own feed mixes from home-grown cereals and other ingredients. It can also be beneficial to the overall farm, as it allows farmers to have more control over their feed quality and quantity, save transport costs and increase flexibility.  Feed Milling requires high-quality equipment, efficient energy use and precise control of the feed quality and quantity.  That is why many farmers choose Big Dutchman Scandinavia Feed Mill, a company that offers innovative and reliable technology and equipment for feed production.
A wide range of products for Feed Milling is available from Big Dutchman such as drum cleaners that remove sand and foreign particles from the crops before milling, filters that reduce moisture and dust in the feed, hammer mills, dry mixers that ensure homogeneous mixing of the ingredients, silos that store the grain and mixed feed safely and conveniently and pelleting equipment that compresses the feed into pellets or crumbles for better digestibility and reduced waste. These products are designed to meet the diverse needs and preferences of farmers, whether they want to produce fine or coarse meals, organic or conventional feed, small or large batches.
One of the most remarkable products of Big Dutchman Feed Mill is the MBM rotary grain mill, which combines high capacity with control of the resulting particle size for the production of fine meals. The MBM rotary grain mill is claimed to reduce energy use by 50%, compared with conventional milling.  It also has longer-lasting flails and screen, which reduce maintenance costs and downtime. The MBM rotary grain mill can handle different types of cereals and grains, such as wheat, barley, corn and soybeans.  It can also be adjusted to produce different particle sizes, depending on the desired feed quality and animal performance.
Big Dutchman Scandinavia Feed Mill in conjunction with Stockyard Industries are more than just suppliers of equipment.  They are also a partner of farmers who want to improve their feed production and animal performance.  The companies provide custom-designed solutions that are adapted to the individual requirements and goals of each farm. They offer technical support, training and after-sales service to ensure that the equipment runs smoothly and efficiently.
Today, Feed Mills are available in sizes of 1-20 ton an hour for livestock animals such as pigs and layers / poultry.  The main product, and all the key machines, are still developed and produced in Denmark by Big Dutchman (Scandinavia) with a high focus on quality, low maintenance equipment and with low running costs.
Advantages of Big Dutchman Feed Mills:
High energy efficiency. Power usage of 10-15 kw per ton produced feed (from intake to delivery)
Available spare parts
Focus on high accuracy in dosing and mixing (10 and 100 gram accuracy on scales)
Low demand for manpower via complete automation
Standard setups, but customized for each customer
Here is a comment from a farm owner who has recently installed a Big Dutchman Feed Mill:
"With Farm Milling from Big Dutchman, we get a quick and easy overview of the status of the Mill. High quality feed is produced from our own recipes through using equipment that is simple to operate and train staff to use."
When considering a Feed Mill, contact Cameron Ross from Stockyard Industries at cameron@stockyardindustries.com or  0488 045 388.