Farrowing Shed gets a makeover!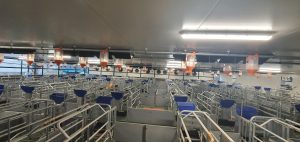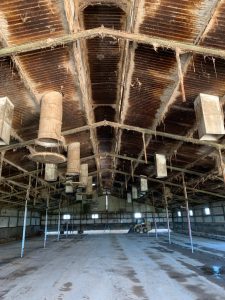 Farrowing shed gets a makeover through Stockyard Industries
Stockyard Industries has been supplying the Australian Pig Industry with not only quality farm equipment but also farm design and shed construction for more than 30 years.
Recently, Stockyard Industries, has facilitated the design and refurbishment of a 138 sow farrowing shed.  Thanks to the expertise of IKC, a leading manufacturing and construction company in pig housing solutions, the farrowing shed had a major upgrade. The ageing facility has been rejuvenated with Big Dutchman ventilation, control systems, alarm systems, cool cell dog boxes, new fans and ceiling inlets. The climate control has been enhanced, ensuring optimal ventilation for the sows and their piglets all year round.
The equipment installation and shed modifications were performed by IKC Industries who are very experienced within the industry.  IKC manufacture and build Australia wide and are specifically focussed on the agriculture sector.  They work extensively within the intensive farming industry in the Pig and Poultry sectors, covering all aspects of design, manufacturing, construction and shed erection.  They work closely with clients to understand their needs to provide innovative technologies that enhance profitability, lower maintenance costs and improve day to day operations.
Stockyard Industries technicians complete commissioning of required equipment and have the ability to support and service the farm on an ongoing basis.  A Service Agreement can also be constructed between the primary producer and Stockyard Industries to plan technicians to return to the farm and check on technical equipment periodically throughout the year.  Remote, phone support is available to ensure the equipment and the farm are operating at optimal performance.
According to the farm manager, the refurbishment project was smooth and straight forward. He said, Cam Ross from Stockyard Industries and IKC were very professional and efficient, and delivered the project well. He also praised the quality of the materials used and also the regular updates and consistent communication with how the project was progressing.
The refurbished farrowing shed will bring many benefits to the farm.  It will create a better working environment that is much easier and better for staff to work in as they can monitor and manage the sows and piglets more effectively. The new automated system will reduce labour costs and improve productivity as well as improve welfare of sows and piglets.
When considering new, refurbished, upgrades or extensions to pig production facilities, contact Stockyard Industries!