STOCKYARD TECHNICAL TEAM HERE TO HELP DURING COVID-19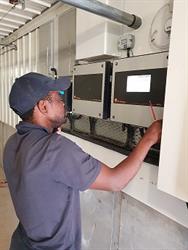 Stockyard Ind. has adapted during COVID-19 and the recent ramping up of farm bio-security against ASF to remain fully operational to help pork producers by providing technical assistance remotely for Big Dutchman and older shed climate controllers.
The Stockyard tech team are based in South Australia, Victoria and Queensland to also offer on-farm technical help during the inter-state travel bans. Our guys have working knowledge of all controllers we have sold in the past plus simulators for the Big Dutchman controllers that we are supplying now. We can advise and help troubleshoot any onsite controller problems without having to travel to the site in most situations.
Stockyard understand that strong customer service is the key in all production facilities, especially now we are coming into the winter months when ventilation rates change from Summer Vent to Minimum vent.
For all Big Dutchman 307pro controllers that are attached to the Big Farm Net our technicians can log into the farm or a controller from anywhere in the world to support the producer. We can help diagnose problems with the shed environment or help make changes in the settings.
For older model controls, Shane Daykin has been with the company more than 10 years and can work though the problem over the phone. We can also help with online manuals and training videos which producers can access.
The Stockyard tech team can also use software like Zoom to host video training sessions, where screen sharing can be utilised if there needs further clarification on manuals or use the whiteboard function to illustrate issues from pictures taken in the buildings.