BD Controls
BD Controls
307 Pro & 310 Pro
The Climate computer that meets the demands of the future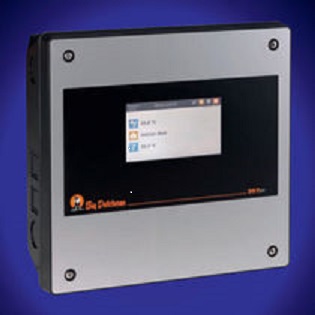 One climate computer for all types of pig houses: finishing houses, nurseries, sow and boar houses
Extremely easy to use with a 7-inch or 10-inch color touchscreen
Customizable user interface
Currently speaks 30 languages –including yours
Software with simple, easy-to-understand icons
Quick data overview, both as graphs and as lists
Detailed alarm log, history and analysis
Remote access via network or app
Full integration with BigFarmNet
Vento
The easy-to-use climate computer for livestock production
Vento is a climate computer developed by Big Dutchman that is easy to understand and very user-friendly. The computer is also incredibly simple to install and to put into operation. Fresh air and exhaust air, heating and cooling are controlled reliably. Vento is ideally suited for houses for livestock production, especially where these are located in hot-climate areas.
The well-arranged 7-inch touchscreen shows relevant curves as graphs. Functions that are used on a daily basis are immediately available in the menu, making the computer very easy to handle.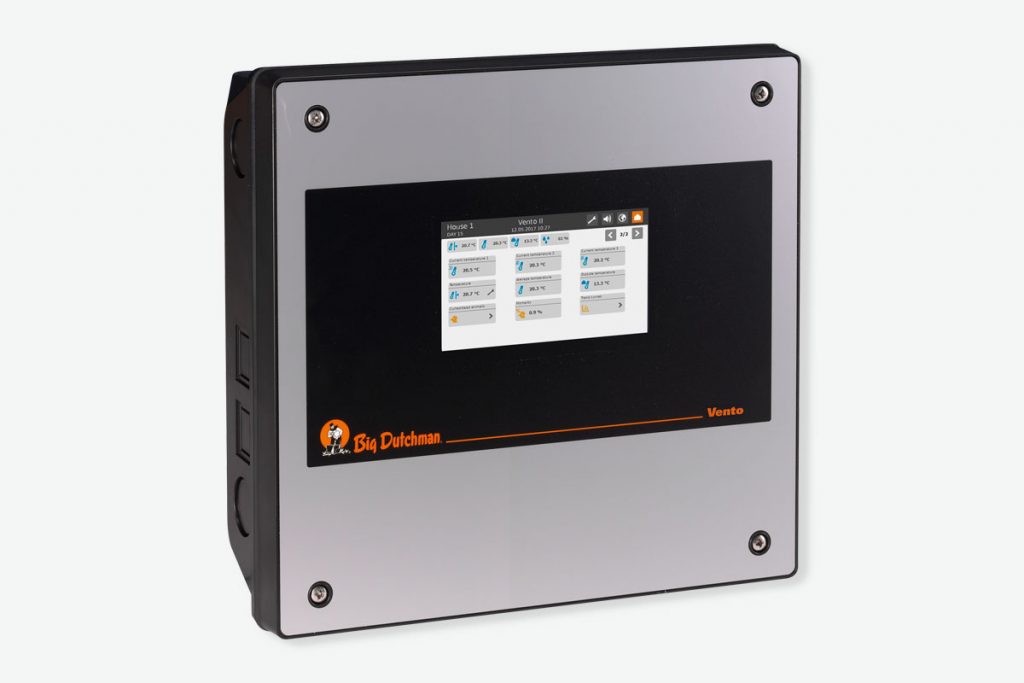 Main advantages
Vento is the ideal climate computer to start automated  livestock production: it helps to improve the house climate and therefore to increase the animals' performance;
easy to install and to put into operation, even without training;
fresh air and exhaust air can be controlled as natural ventilation or as side, tunnel or CombiTunnel ventilation;
the active ventilation level is displayed;
automatic data backup always occurs at midnight.
---
Big Dutchman Alarm System
For the highest security standards in your pig house
Modern houses for pig production are constantly equipped with more technical management aids. Automation processes for feed and water supply
as well as climate control increase every day. Installing technical devices for monitoring and notification purposes is therefore an
absolute necessity. Farm managers can react instantly in case of problems and are thus able to prevent damage in a reliable manner.
Big Dutchman alarm systems raise the bar regarding functionality and security requirements.
AC Touch
– for highest security standards
With the alarm device AC Touch, Big Dutchman introduces a new generation of alarm systems. Instead of a key, AC Touch is accessed by means of a fi ngerprint sensor. This ensures that changes to settings and acknowledged alarms can be tracked back to the responsible person with absolute certainty; a great advantage on farms with several employees.
Furthermore, the alarm device is easy to use thanks to a large color display. All alarm inputs and functions are displayed clearly and can be easily adjusted. Another important feature is the "black box", which cannot be deleted and saves all alarms and activities.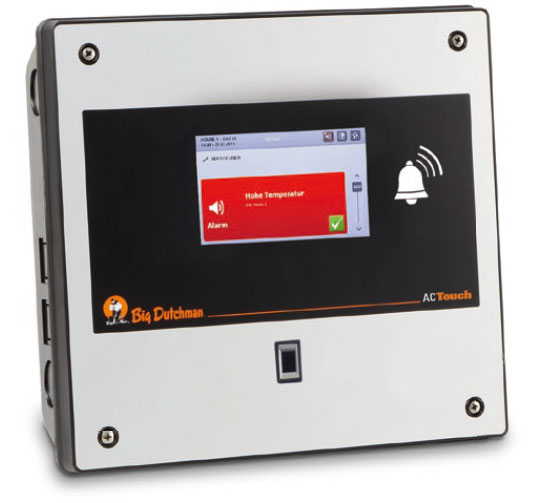 All functions at a glance
10 analogue or digital alarm inputs, e.g. temperature alarm, fire alarm, motor failure;
all inputs are fail-safe in case of wire breaks and, as an option, also for short circuits, too;
10 relay outputs actively switch on emergency fans or MultiStep groups, dependant on temperature limits or alarm notifications;
the temperature is monitored by means of temperature profiles which can be pre-configured or set up individually;
temperature monitoring registers both sudden temperature changes and temperatures below or above the absolute values with regard to
the current outside temperature;
secure identification of up to 20 users with different rights thanks to a fingerprint sensor;
progress curves of all alarms of the past 30 days can be displayed;
the long-time storage cannot be deleted for an entire year;
phase failure monitoring (optional) reports power failures;
backup battery including monitoring of the battery status;
automated test alarm;
less important alarms can be muted for the night;
integrated microphone records alarm messages.
Pig
---
Search