Rodent Control
Rodent Control
Generation First Strike
135-00545 Generation Blue Soft Bait 5.5kg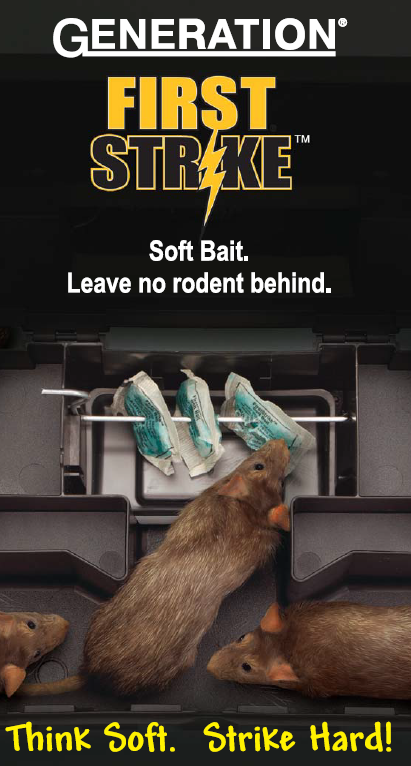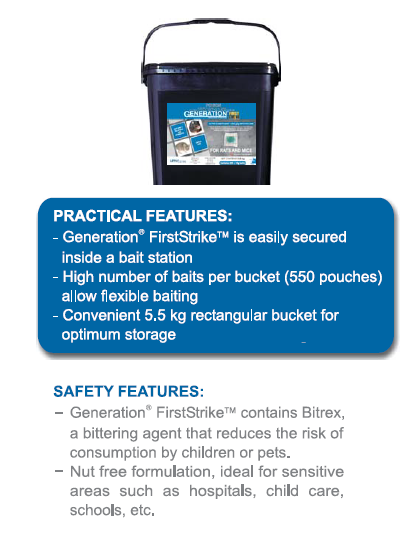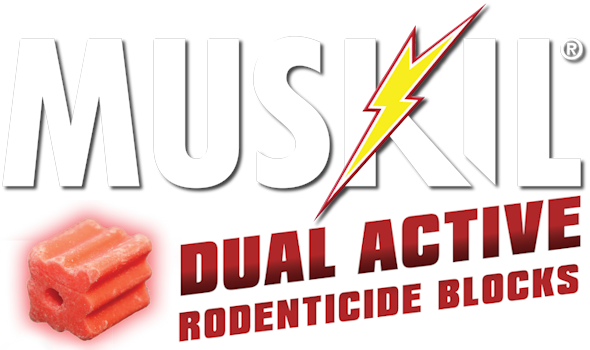 MUSKIL Dual Active Rodenticide
A generational breakthrough in rodenticide technology
---
MUSKIL is the first ever dual active rodenticide that combines two active ingredients, difernacoum and bromodiolone together with a
unique FLURO_NP technology to reduce the "fear of new things" so the rodents feed more quickly on the MUSKIL. Due to the fluorescence,
MUSKIL is very visible to rats and mice as it is illuminated in the dark and falls much better into their sight spectrum than regular
dyes, therefore the bait is more quickly accepted.
MUSKIL is the first ever dual active rodenticide. This patented technology combines two active ingredients to deliver rapid speed of
kill, second to no other bait. Incorporating FLUO-NP Technology™, MUSKIL greatly decreases the normal neo-phobia (fear of
new things) shown by rodents to ensure rats and mice feed more quickly.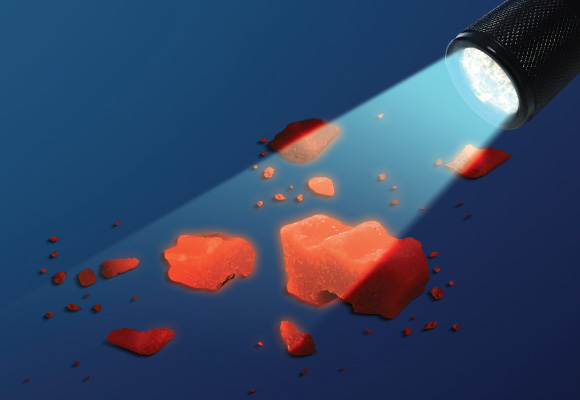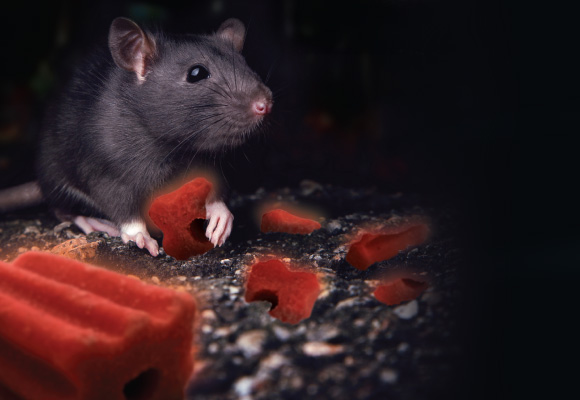 Optimised for rodents' sense of sight, smell and taste. The aromatic feeding attractants in MUSKIL ensure rodents are lured to the
very desirable, highly palatable food source where the bright red fluorescence of FLUO-NP Technology provides visual appeal.
The use of a fluorescent bait provides further benefits for use in sensitive areas as it offers the opportunity to better check bait
feeding, bait carriage/spillage, check rodent tracks and movements as well as recover eaten/carried blocks and check for rodent
entry points or harbourages as rodent droppings light up under black light.
One of the most remarkable attributes of MUSKIL is that whilst displaying super fast kill of rodents, it displays a lower toxicology
profile against non-target animals including family pets, when compared to most other rodenticide baits. The formulation of Protect-us
MUSKIL has been specifically tailored for Australian conditions, achieving improved palatability for local rodent species. Even
the shape of the 15 g block is attracting to rodents' providing numerous edges to satisfy the rodents' desire to gnaw.
Available to purchase today in 3 kg and 8 kg buckets. Bait stations are also available.
Poultry
---
Search